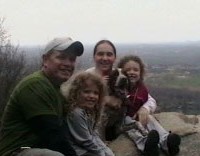 Susanne Seward grew up in Northwest Arkansas with her parents and three siblings.  She worked at a local zoo as a teenager, where her love for animals was cultivated.  She attended the University of Arkansas where she received a BS in Civil Engineering.  Upon completion of her degree, she was commissioned a Second Lieutenant in the Army.   She received an educational delay to attend Veterinary School.
Susie moved to Gainesville, Florida with her husband, one dog, two cats, and numerous reptiles to attend the University of Florida, College of Veterinary Medicine.  After completing veterinary school she was stationed at Fort Benning Veterinary Treatment Facility.  She completed four years of active duty including a one year deployment to Afghanistan.
Upon leaving active duty, Susie worked for Muscogee County Humane Society as the Director.  She helped set up their full time spay and neuter clinic, and continued to work with Paws Humane once Muscogee County Humane Society merged with Paws Columbus.  She began her own business in 2010 to increase access to affordable preventative medicine in the community.
She is currently a Major in the Army Reserves.  Susie and her husband, Kyle, enjoy traveling and numerous outdoor activities with their two little girls.  They currently have two dogs and two cats.